DESIGN STORY LEVEL 10 M ADVANCED
With an acclaimed history of award winning design that's steeped in cutting edge performance and unmatched versatility that's spanned more than half a decade – Tt eSPORTS are proud today to take our original concept that we defined as Level 10 another step further. Introducing to the world our latest evolution for gamers – the Level 10M Advanced; a professional gaming mouse that's bound by no limits.
The Level 10 concept delivers jaw dropping versatility, performance and ergonomics that's driven through iconic and intelligent industrial design. Our new Tt eSPORTS Level 10M Advanced builds upon its predecessor's legendary history, and sets the trend once again for these instrumental core foundations – ensuring that gamers have the tools required to stay two steps ahead of the competition. Driven through design, the concept goes beyond what's commonly expected in the computer technology market and allows us to pioneer products that connect with users at a fundamental level.
The success of our Level 10 concept has been extended to computer gaming peripherals, with an inspiration for exterior design that originates from futuristic hardware technology and virtual landscapes, our Level 10 concept serves to appeal and distinguish itself with PC enthusiasts and gamers via its forms of open modular and configurable structuring that offer both additional functionality, as well as unprecedented design and ergonomics. We've designed and shaped the Level 10M Advanced in tandem with leading eSports players, helping to balance, optimise and fine-tune a gaming mouse that's worthy of the very best.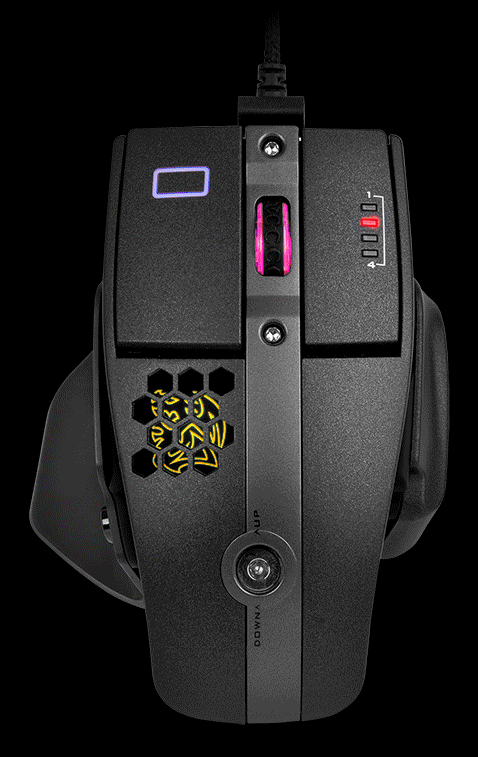 Tt eSPORTS PLUS+ PC Software Support
Tt eSPORTS Plus+ is a software made for the Tt eSPORTS SMART SERIES that offers a user-friendly UI to record and display gaming performance. It records gamers' performance statistics to the Tt eSPORTS PLUS+ application, breaking them down by distance, clicks, actions per minute, and lift-off. In addition, the Tt eSPORTS PLUS+ COMMUNITY & Data Management Platform further analyzes your stats, compares your usage with pro players and enables you to challenge your friends to mouse usage competitions. The Tt eSPORTS PLUS+ application is currently available for download on PC device.
ARM BASED 32 BIT MICROCONTROLLER
The most powerful microcontroller designed for performance enthusiast Powered by an ARM 32 Bit microcontroller with 64KB flash memory to build a gaming mouse that meets the special performance needs of enthusiast gamers.
POWERFUL16000 DPIAVAGO 9500 LASER SENSOR
The Level 10 M ADVANCED laser gaming mouse now offers up to 16000 DPI. The DPI can be fine tuned in increments of 100 DPI at a time. Move with precision with the Level 10 M ADVANCED, as you can count on it at the crucial moment for that winning click to be accurate. Furthermore, Selectable DPI options can be adjusted on-the-fly by default (400, 800, 1600, 3200) or higher DPI up to 16000 DPI that can be configured via its gaming software. Dedicated on-the-fly DPI adjustment button (5D Button) for unbeatable access when in-game – allowing you to change your sensitivity without compromising your aim. With the powerful AVAGO 9800 laser sensor, it offers a superior tracking across the widest variety of surfaces!
50 MILLION CLICKSOMRON SWITCHES
The OMRON switches provide a crisp clean click with a life cycle of 50 million clicks. The Level 10 M ADVANCED gaming mouse plans to compete as long as you do!
AERODYNAMIC ENGINEERED AIR-THROUGH VENTILATION SYSTEM
Level 10 M Advanced's aerodynamically honeycomb designed mouse with breathability to keep your hand cool, allow you to manage the airflow while using the mouse and increase the flexibility of moving. This concept enhances expressively more ventilation as it will help ease sweaty palms throughout intense gameplay, let your hand cool, increasing your comfort and allow you to bring your performance to a new level. The maximum ventilation is ultimately required for keeping gamers cool. Due to the longer gaming time, aerodynamic gives advantage as it could influence your ability to compete over the long period
ERGONOMICWITH BASE-PLATE DESIGN
BASE-PLATE DESIGN
Comfort is crucial during the gameplay! The new Level 10 M Advanced Mouse features a re-designed right side grip for even better ergonomics than what was offered in the multi-award winning M Mouse. Feedback collected from gamers have been included to the Level 10 M Advanced's design by adding the base-plate on the left side of the mice to ensures a top fit for any hand size, letting you play comfortably during extended sessions without any frustration. The Level 10 M Advanced also has a lighter weight compare from the previous Level 10 M mouse for comfort and smooth reach with consistently accurate tracking!
STEERING AXIS SYSTEM
The new Level 10 M Advanced features a re-designed angle for even better ergonomics than what was offered in the multi-award winning M Mouse. The 2D-Steering Axis system allows you to customize the angle at which the Level 10 M Advanced mouse sits in the palm of your hand.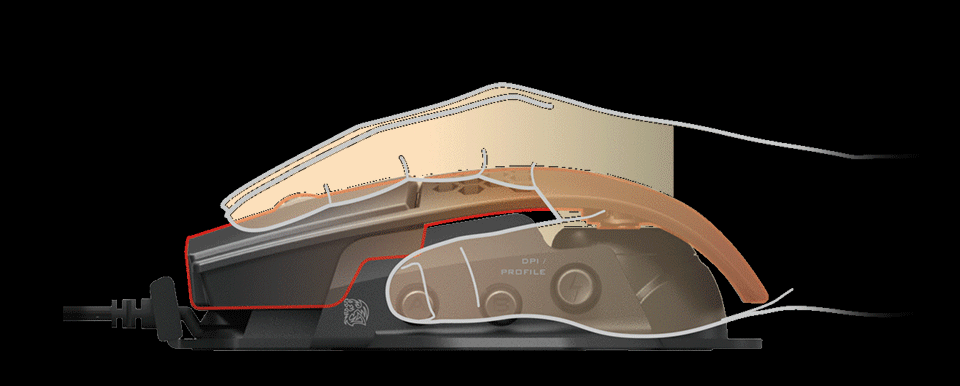 R G B ILLUMINATION16.8 MILLION COLORS
Add extra mood to all intense gaming session by adding RGB illumination with 16.8 million color options on 3 separate zones. Lighting on these three regions will let the spirit of the battle dragon shine through more brilliantly than ever!
ON-BOARD MEMORY
Level 10 M Advanced features a 256K built-in memory allows you to save and recall all your favorite settings at any-time from any PC. Save up to 5 individual profiles, DPI adjustments, lighting configurations and macros all directly onto the mouse.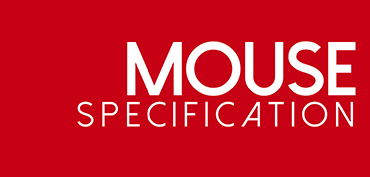 | | |
| --- | --- |
| DIMENSION | 449.8 X 142.6 X 37.7 MM |
| NO. OF BUTTONS | 6 |
| COLOR | BLACK |
| SHAPE | ERGONOMIC DESIGNED FOR RIGHT HAND AND LEFT HAND |
| NO. OF MACRO KEYS | 50 |
| NO. OF GAME PROFILES | 5 |
| USB CABLE LENGTH | 1.8M |
| OMRON SWITCHES | RATED FOR 50 MILLION CLICKS |
| WEIGHT-IN DESIGN | NO |
| GRAPHICAL UI | NEW TT ESPORTS GUI |
| GOLD-PLATED USB | YES |
| LED COLOR OPTIONS | RGB ILLUMINATED 16.8 MILLION COLORS |
| LIGHTING EFFECT | STATIC , PULSE , SPECTRUM RUNNING |
| WEIGHT(G) | 161.9 |